I'm in type 2 diabetes remission after 23 years – David Williams
David Williams was referred to the Low Carb Program by his NHS GP. Reflecting on the year just gone, David wrote his story and shared it with us. We're sure you'll find this very inspiring.
"The Low Carb Program has been, for me, almost lifesaving and certainly life-enhancing. It has provided a huge paradigm change for my lifestyle and attitude that I know will continue for the rest of my life. I am sharing my story in the hope that it inspires others to start the journey.
"I am 65 years old and, up to three months ago, had been obese for almost my entire adult life. I had triple coronary heart by-pass surgery in 2007 and have, more recently, had a pacemaker fitted. After being diagnosed with type 2 diabetes in 1997, I am currently in remission, my weight is 71.8kg, or around 11 stone 3 lbs with a BMI of 26.3, which is not far above my healthy BMI range of between 18.5 and 25 or 50.4-68.1kg.
"I no longer take any diabetes medication, having previously been on an ever-increasing dose of a variety of tablets over more than twenty years and close to daily insulin injections.
"My HbA1c level is now 39 mmol/mol and is stable, within a pre-diabetic range.
"I now live and enjoy a very active life with daily swims and walks. My mood is generally positive, though it can depend on the results of Liverpool FC Games! Over the next year, I expect to move within the healthy BMI range and change my wardrobe as well as finishing paid work and looking forward to an active and happy period of retirement. So, my excessive body weight has had a major and detrimental effect on my life for many, many years. The clear question raised is therefore 'Well, why did you not do anything about it?' My detailed response would take far too long for the purpose of this article, but I will try to highlight a few areas that might help others who are travelling behind me on the same road.
"Becoming overweight for me began in childhood. It may have been caused by range of things; too little activity, eating and drinking too much, comfort-eating and low self-esteem. As I got into teen years, I began smoking and drinking beer at a relatively early age, fitting in with others and getting the buzz of belonging, often with company older than me. I also began to get into the habit in my twenties of excessive drinking, leaving the pub at night and getting a takeaway, to munch watching the TV before bedtime. As a chubby, friendly type I had lots of friends but no serious girlfriends, as my overweight appearance and attitude led to being not taken too seriously, by myself and others.
"Reaching my thirties was a bit of a wake-up call. I returned to university for a PGCE and became a committed primary school teacher. I met a lovely lady and we married in 2003 but I remained somewhat overweight with a feeling that it was impossible to be other than 'obese'. I eventually needed by-pass surgery in 2007 and the diabetes continued to develop up to the border of maximum therapy and considering insulin injections. I did try to take all of this seriously.
"Over the years, I have gradually stopped eating red meat, sweets, cakes biscuits etc and I no longer drink any alcohol. I have, for over thirty years been virtually a daily swimmer and have always been involved in some sort of regular exercise. I have also been on umpteen weight management programmes that have had some impact but never enough to bring me below the 'obese' threshold.
"For the first time, through the Low Carb Program, a paradigm change has occurred, I am no longer 'obese', and I feel that, for me, permanent change is possible. I eat a great variety of food, including lots of leafy vegetables, chicken, cheese, berries and cream and fish that I do enjoy. I have learnt to cut down carbs to a low level and, remarkably, this works! For me, drinking real ales and eating good bread and scones are things that I miss but I can live far better without them or the medication that I "previously needed.
"In conclusion, if you do recognise any of my traits and life journey within your own experience, please do look for the signposts and follow them before you become diabetic, need major surgery or have to live with huge bags of medication or daily injections. Life can be much richer and more satisfying without the carbs!
"Do give it a go!! After all, life can be so much richer with fewer carbs and less medication. Do also be kind to yourself. There will be blips along the way, but they are just blips."
So, if David can place his type 2 diabetes into remission after 23 years, just think – what could you achieve with the right support? Join over 451,000 people in the Low Carb Program and find out 🎯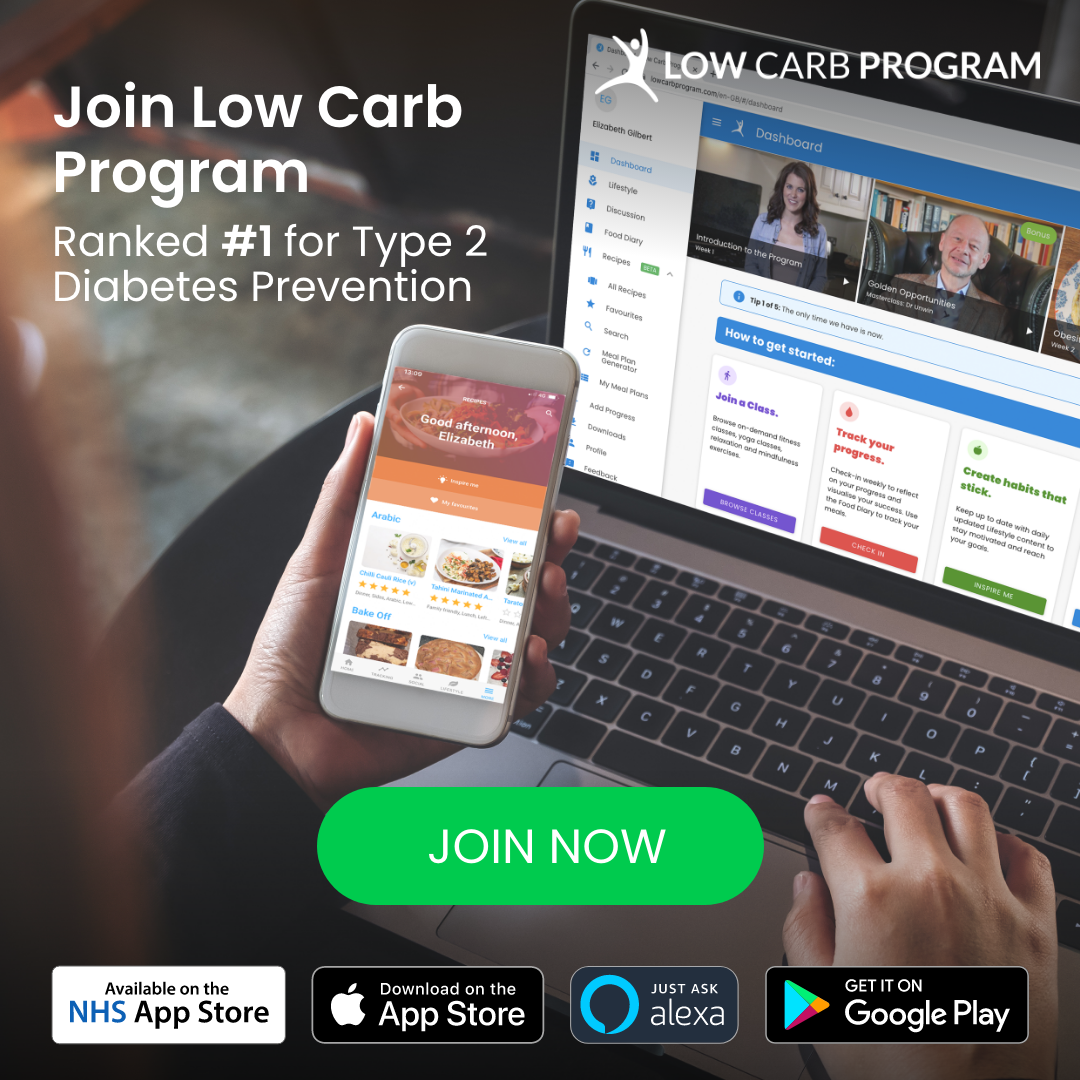 Did you know: Low Carb Program was ranked #1 for type 2 diabetes prevention and diabetes by The Times' Best Health Apps List 2020.